Brewery SEO (aka Search Engine Optimization) is an important process that helps search engines like Google and Bing rank your website in search results. Unfortunately, SEO has gotten a bad rep due to sleezy companies offering shady services that cost an arm and a leg. However, I have good news for you, SEO doesn't have to cost a fortune or take a degree in advanced geekology to manage because I am going to ?break-it-down? for you.

Sorry, I couldn't resist! Okay onward…
Brewery SEO – 101
First, let's take a look at what the current search results look like when we do a search for "breweries near me". This type of "near me" search is increasing in popularity each year due to the ease of searching on mobile devices. Most searches for "breweries near me" or "breweries in (city name)" will look like this: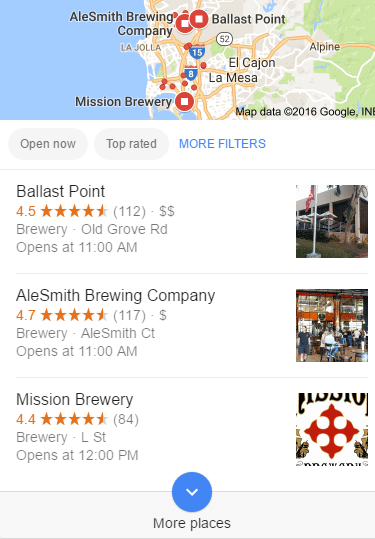 Ranking in this limited space can be a challenge depending upon how crowded your local market is. Google will generally rank these listings in order of proximity to the center of the city you are searching for. In the search above, I chose the most crowded local market in the country – San Diego. As you can see, there are many breweries near the center of the city, however, Google is only showing what they consider the top 3 (based on their algorithm) in the initial list. Clicking on the "More Places" link will display an expanded, scrollable list ranked in order of Google's idea of relevance.
So, how does Google choose which breweries to show in the list below the map? There are a large number of factors that come into play when it comes to Google's search ranking algorithm. And without getting into a bunch of technical mumbo-jumbo, I can tell you exactly what you should focus on in order to help your brewery website rank better in search results and look good to boot.
Start With Your Website
Whether you're hiring a web design company for your brewery or DIYing it, these are things to keep in mind when it comes to how your web pages appear in search results.
Name, Address & Phone Number (or NAP as the geeks call it): Make sure that your website contains your brewery's name, address local phone number and hours in plain text so that search engines can "read" it. Placing any of this info in an image is a no-no. Your website is the source of data that Google will constantly check to ensure its information is accurate. Google can't reliably understand what's in an image so it's best to avoid confusing their robots that are sent to "crawl" your website.
If you have more than one location, it's a best-practice to place the name, address and phone number of each on individual pages on your website. Be sure, however, to make the content on each of these pages unique. You can include photos from the location, info about it, events happening at each, etc. You want to mainly avoid having a page that reads almost identical to another on your website if at all possible.
Website structure: Make sure your website is built in a way that doesn't send search engines on a wild goose chase. Navigation and page hierarchy should be simple and easy for humans to understand. Avoid web software that outputs a bunch of junk after the main URL or allows you to see the same page at two different URLs. Many content management systems (software that runs your website) can do this if not configured properly. If you are starting from scratch, we recommend WordPress as your website's software and Yoast's SEO plugin to manage some of the little SEO issues that WordPress doesn't handle out of the box.
Mind your age-gate: If you use what's referred to as an "age-gate" on your website to discourage minors from entering, it can cause confusion for search engine robots, because in many cases, it's the first thing the robot sees. Attempts to block robots from seeing the age-gate page, will likely result in search results that look like this fine example:
It's better to use a pop-up mechanism if you are using an age-gate vs. a full page, which not only blocks users from your content, it will also look bad in search results. Google recently they made an announcement that they will be penalizing mobile websites that use pop-ups, but don't worry, as this doesn't affect age verification pop-ups.
Titles & Meta Data: Make sure your homepage meta title doesn't just say "home". Ideally, it should just list your brewery's name and maybe your slogan — nothing else. In addition, give your other pages unique titles and meta descriptions that describe what's on the page. Very often, people leave default titles on web pages and they don't look very good on search result pages. The title and meta description is most often utilized by search engines to show the information about the page in search results, so you can treat this like a mini advertisement for the page.
pro-tip: Incorporate schema markup to ensure Google can easily crawl and index your website's information. This is an advanced area and you will likely need a pro to help you out unless you code websites as a side-hustle.
Links & Mentions/Citations
Much of the order you see at play under the map in search results has to do with incoming links from other websites to your website and what SEO geeks call "citations", where other websites list your brewery information — think directory websites, like Yelp and Beer Advocate. The information on these websites should exactly match the name, address and phone number on your website. So, make sure there are no name variations on your listings which can totally happen if someone checks in a beer and half-ass enters your brewery name (this happens all the time – and don't get me started on beer name check-ins).
These are the websites you want to make sure are accurate first. In all cases, search fist to be sure you don't already have a listing on a website before making a new listing. If a listing exists, you must claim/verify it and edit from there.
There are many, many, MANY, more directories out there, but many of them either copy data from the others or get info from official sources such as DBA or Corporation filing databases. I could easily list 50 more here, so if you happen upon another relevant website that doesn't have your brewery listed, list it; if it has your information listed wrong, claim the listing and correct it.
pro-tip: Use this free citation checking tool to run a check on your brewery's citations. The tool will list quite a bit of info, but you mainly want to pay close attention to incorrect and duplicated listings. You only want one listing per location, per website. So, if you have more than one, delete the duplicate(s). For best results, ensure all listed data matches your website. In addition, you will want to manually check other listing sources such as your chamber of commerce, Beer Advocate, etc. that isn't listed in the tool mentioned above.
Your Google "My Business" Page
If you haven't already signed up for a Google My Business page signup here. First, Google will have you enter the name of your brewery and will look for listings that may already match your search. I also recommend that when searching for your brewery that you enter the city name as well just to be sure you are looking at relevant information and not similar names that are in other areas. If you see your name listed, click on it and you will be prompted to verify your listing before you can edit it. This usually involves a postcard being mailed to the address of record with a code that you will enter into the site to verify that you are a real person at the brewery.  If you have trouble editing or claiming your Google My Business page, you can get basic troubleshooting help via this Google help page.
Once your listing is claimed by you, log in to review and edit it to match your website. Be sure that the name, address and phone number on this page matches your website exactly. Also, be sure to select the correct category (or categories) for your brewery. So, if you are a brewpub, for example, you would want to select "Brewery" as well as "Brewpub" and maybe even "Restaurant" if you serve a full menu. For a brewery with no food on premise, you would choose "brewery" as your primary category you could also add "beer store" if you sell beer that can be purchased and taken off premise.
pro tip: The categories in the Google My Business listing are very important, so choose wisely and don't go selecting anything that isn't 100% relevant to your operation. 
While this article mainly focuses on brewery SEO, the tips herein can mostly be applied to any business that has a physical presence and wants to appear in what is considered a localized search – or any search that is performed with the intent of potentially visiting a physical location. So if you are a bottle shop, homebrew supply store, or any of the many other retail establishments you will likely be able to improve your search presence as well, by applying these tips to your SEO efforts.
Craft Brewers
Get Free Brewery Marketing Tips
Join our Facebook group and get advice to grow your brewery.